I'm sitting here with a blank post screen in front of me, ready to articulate the thoughts that are whirling through my head, but seemingly unable to actually START writing! Okay, just did it. Phew glad that's out of the way. A common complaint I read on blogs and one I heartily agree with, why is it so very difficult to find the correct words to actually begin a post?
Perhaps one day we shall know
Well that was a tangent if I've ever read one, a few sentences that took me much longer than they ought to have. Hrmm I'm thinking a "list-style" post is the way to go today, as I can't seem to get actual cohesive sentences together without sitting her like a bump on a log contemplating for too long. Yes indeed, Thursday Thoughts it is
1) Let's be honest here, animal people can be a bit…. odd. I am a self-proclaimed cat lover and feel I fulfill such a stereotype nicely, though I do keep my obsession on the DL. However, I felt compelled to share this picture that somebody took of Caleb and me when we were sleeping so peacefully together,
It definitely was not me who was holding up the camera to take a rather weird selfie… nuh uh no way
2) I WISH I was going to HLS 2013 but I just couldn't swing it this year (insert sad face). While the workshops and classes geared toward bloggers were just OK, the absolute best part (and I shared other thoughts about it too) about the conference was finally meeting people who's blogs I had been reading for years, Chelsea, Katie, Lisa (although even more lovely bloggers) I'm looking at you! There are writers attending this year who were not there previously, and I would adore to meet them… someday please Sam, Amanda and so many others! Do have a Glorious time though
3) I'm certainly sad that summer has inevitably come to an end, though I will have to say, the discovery of my oh-so-favorite apples, HONEY CRISPS, in my local grocery store the other day, made the transition a tad bit easier
I've talked about my love for this particular kind of apple several times on the blog now, and I shan't ever stop… they truly are the best out there! In my opinion anyway.
4) Speaking of seasons, anyone who lives in the Northeast, knows that we had a particularly hot day yesterday, temperatures getting up into the mid-90s. While I do like summer, I do not enjoy oppressive heat with a gross amount of humidity tagging along. To help alleviate my b*tching about the weather, I hauled my butt to the beach and spent my afternoon off 100% alone at a secluded beach near my house. The water was crystal clear and though COLD, so very refreshing. Alone times like yesterday, in an environment that I simply find solace and peace in, is something I need to do more often and finally RELAX <– or at least continue trying to.
5) Speaking on not being able to relax… I'm facing a major dilemma as far as what the poop I'm going to do with my life. Most of you know about what happened with nursing school (is she really talking about this again?! Yes indeed I am). 5 horrific and stressful months spent working so hard to pass and then… NOT making it through. The school's policy is that I can't go on without passing the maternity and pediatrics semester, but I do have the opportunity to reapply and REDO that the particular class and continue with my nursing education. Many thoughts about this,
 Is this what I really want to do?
If I'm thinking it's not, is it because of the prospect of the actual school part or that I really-truly don't feel my future is with nursing?
Can I handle that class again… not only the work load and exams, but the mental angst that went along with it? Could my psyche handle it? <– Not exaggerating.
Would it actually be as bad as last semester, especially since I've done it once and am now working in a place where I receive education on a daily basis?
Do I want to spend an extra year pursuing something I'm unsure of?
If not, then what is my alternative, what are other options I have? I know there are things out there of course, but I've never really thought about it because nursing was simply what I was going to do. <– Why? Because it's a solid career, I like health care, you can get a job anywhere, and so on. BUT is it what IIIIIII want?
What if I were to give it a go a second time and I FAILED AGAIN?

Oh.my.gawd.
All of these questions are pretty similar and with no concrete answer. I'm so overwhelmed by this decision… anxiety and heart palpitations regarding the matter are a daily dose of fun. For now I think I will reapply (hopefully get in though not guaranteed!) and then make the final decision come December. The deadline is out there though and I'm so lost.
Indecisiveness may or may not be my problem.
6) Hookay that last "thought" was more like what is racing through my head constantly, and I rambled on there much more than planned… whoops.
7) Before heading to work, I stopped at an organic/healthy eating hot-spot to pick up my dinner for the night. They weren't quite ready when I got there so had some time to hang around and found myself looking at the juices menu, something I have never tried before. I've seen bloggers and the like raving about juices they have tried from a place or made themselves, and decided to give it a go… even though they were about 4 bucks. WHEN IN ROME eh? Or something.
Anyway I went with this particular juice, because for an unknown reason I felt it necessary to try the "weirdest" one on there,
Sounds great right? Actually it doesn't. What on earth was I thinking with this… especially with the beet in there (narsty) and the fact that I added kale for the greens (which I can't stand)?! The guy told me the apple cancelled out the other flavors but you still received the health benefits. LIAR LIAR PANTS ON FIRE.
Turned out to be one of the more grosser things I have EVER tried in my life and because it was $4 I wanted to at least get my money's worth and drink the darn thing. NOPE couldn't do it. Made it about 1/3 of the way, found myself cringing and getting slightly nauseous with each sip and decided it was time to give it up. Perhaps I'll try a less "adventurous" one in the future, but it won't be for a while, I'm scarred!
8) I cannot spell the word nauseous correctly without auto-correct helping me out. I only did so right there because I looked at the one in the above paragraph.
9) I've been text-heavy and also a bit serious in my last few posts, so allow me to end with something that continues to make me (literally) LOL whenever I listen… COMEDY. I know I've already brought this up, but I'm addicted at the moment and wanted to share a current favorite of mine, Demetri Martin. Psychology paired with comedy, perfect.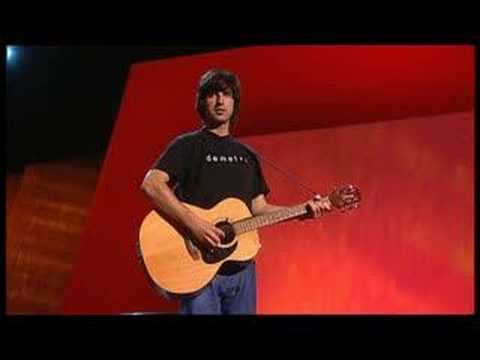 Never ceases to make me smile, something I need/want to do more often!
-Have you ever had to go about making a (possibly) life-altering and incredibly hard decision? How did you go about doing so? Was it a positive or beneficial choice in the end?
-What word can you not spell if your life depended on it?
-Have tried juices or made them yourself? What's your favorite combination? Like I said, I am willing to give this another go (in time) they do sound tasty and healthy in theory.
-What is a thought you have on this particular muggy, humid Thursday?
To those going to HLS, safe travels and I'm looking forward to reading all about it! Everyone have a nice rest of your day and weekend if I don't pop in tomorrow